Vietnam Tourist visa which categories (DL) is one of the most popular types of Vietnam visa. Travelers can choose a visa valid for 1 month or 3 months on both kind of single and multiple entries.
How to Apply for a Vietnam Tourist Visa?
At this time, there are 02 ways to apply for a tourist visa to Vietnam:
I. Apply for a Vietnam tourist visa on arrival airport
Fill in the visa application form online
Get visa approval letter via email within 03 working days or even 1 working hours in emergency cases
Get visa sticker on arrival at Vietnam airport
II. Apply for a visa at Vietnam Embassy abroad
The Vietnam Embassies are required to send off your passport or personal visiting. We really recommend you to contact the Embassy for guidance, procedure and fees. This way suitable for travelers who coming to Vietnam by land.
Vietnamese Tourist Visa Fees
The cost of applying for the tourist visa for Vietnam depends on the method and type of visa you choose to get:
The fee for a tourist visa at the Embassy is varied. Please contact directly to the Embassy for more detail before applying.
There are 02 type of fees when you apply for a Vietnam visa on arrival airport: service fee and stamp fee. The stamp fee is regulated by the Vietnamese Government, and the service fee is publishing on this page.
Here is a sample table of Vietnam tourist visa on arrival fees:

Note: US passport holders have one 01 more option when apply for a tourist visa to Vietnam. That is 1 year multiple entries. Please take a look in here for more detail.
What are Tourist visa requirements?
To apply for a visa on arrival airport, you just need a smart phone/laptop with an internet connection, your passport detail and arrival time to fill in the visa application form. Also, you need to:
Make sure your current passport is valid for at least 06 months beyond arrival time.
Your current passport has at least 01 blank pages for visa and entry – exit stamps;
Onward ticket may be required at check-in point.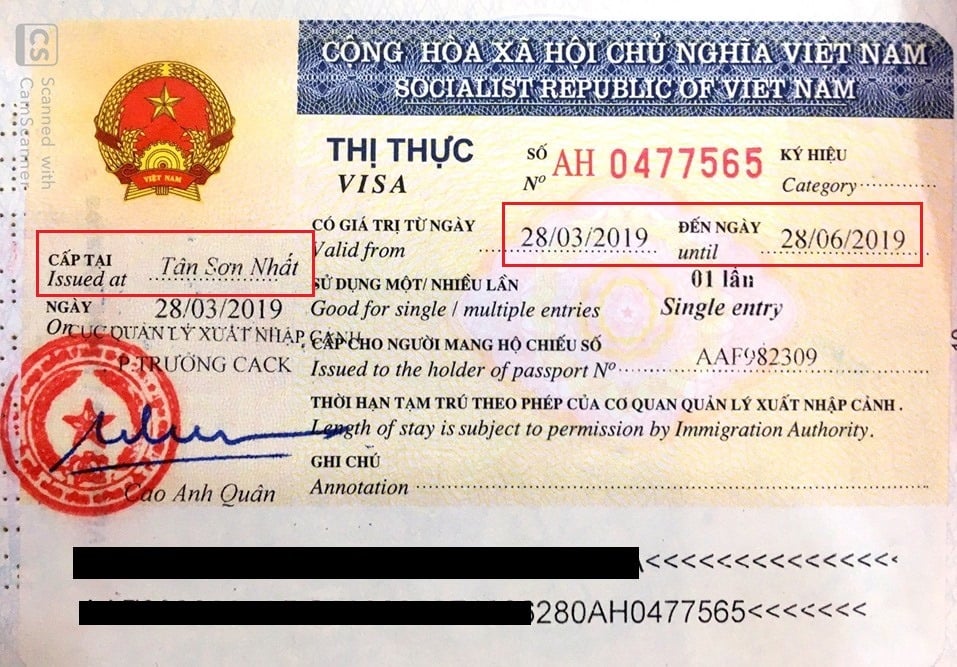 Processing Time
The processing time of a tourist visa for Vietnam varies based on the way you choose to get your visa.
Vietnam visa on arrival: 2 – 3 working days to receive the approval letter. But if you need an urgent, you can get the result in 1 working day or 1 hour on the emergency cases.
Vietnam visa at the Embassy: 03 – 05 working days after you have submitted your passport and document + the postal delivery time in case you send your passport by mail.
Let us know if you have any questions about Vietnam tourist visa on arrival airport via
Email: info@visatovn.com
Hotline/Zalo/Whatsaap/Viber:(+84)906.609.394