US passport holders have REQUIRED to get a valid visa to enter Vietnam for any purpose from tourism; business or visiting relative. You can apply for a visa at Vietnam Embassy, travel agents or online. Also, you can choose to obtain a visa sticker or apply for an invitation letter to enter Vietnam.
With the visa sticker on your passport, you can enter through any port of entry (airport, seaport, borderland). The visa sticker is issued by the Vietnamese Embassy or Consulate. You should contact directly to their Office to get more details about visa requirement and fees.
Meanwhile, the invitation letter which you can normally get from agents or online, can be used to enter at International airports only. There are 2 kinds of fees you need to pay when using the invitation letter: service fee and stamp fee. And here is the sample of the visa on arrival fees from our page.

How to Apply for a Vietnam Visa for US Citizens
US citizens can choose one of the following methods to apply for a Vietnam visa:
1. Apply at a local Vietnam Embassy
If you're residing or traveling in the United States, you can apply a visa to Vietnam at:
2. Apply Vietnam visa on arrival online
You need to provide only your passport detail and arrival time. After processing time, we will send you the invitational letter via email then use it on arrival airport. In short, you just need to follow 03 simple steps as below:
Filling out online application form, and make payment of service fee.
Receiving the invitation letter via email, normally in 3 working days (for tourist visa) or 4 working days (for business visa). The urgent case is available on a tourist visa which takes only 4 – 8 hours for you to get a result.
Getting visa stamp upon arrival at Vietnam airports and pay for stamping fee in order to get visa sticker into your passport.
For full details about fill in a visa application form, please take a look on this page.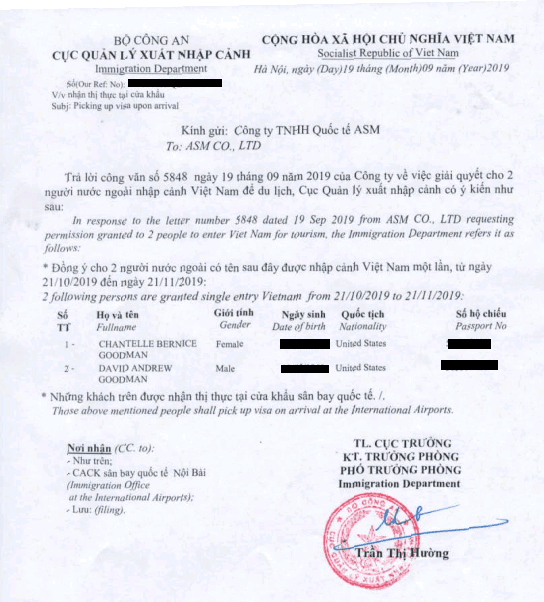 Before taking your trip to Vietnam, you need to:
–           Print out the invitation letter before going to Vietnam.
–           Prepare 02 photos size 4×6 (white background).
–           Cash for stamping fee.
–           Your passport must be valid for at least 6-months beyond arrival time.
–           Fill in Vietnam Entry and Exit form in advance to save your check-in time on arrival.
–           Onward ticket (usually require on type of tourist visa).
Submit all these things to officers at "landing visa office" on arrival airport in Vietnam, they will check and put the visa sticker into your passport.
Note:
When you apply for a Vietnam visa, make sure that you request the visa category corresponding to your traveling purpose.
If you are planning to work in Vietnam, you are required to apply a business visa.
Vietnam visa purposes can not be changed inside the country, so you have to make a plan before applying for a visa in order to save your time and money.
Further information, do not heritage to contact with us via:
Email: info@visatovn.com
Hotline/Viber/Whatsapp/Zalo: +84 906609394