Vietnamese visa application form, another name Vietnam entry and exit form – Form NA1, is one of the most important documents that you MUST submit along with the Vietnam approval letter in order to get visa stamp into your passport. Foreigners who already have the Vietnam visa stamp on their passport or citizens from some nations which can get exempted Vietnam visa, do not need to fill in the Vietnam entry and exit form. In this page, we will show you how to complete the form correctly.
Where can you get Vietnam entry and exit form?
You can get one when you arrive at any Vietnam international airport. After completing the form, you have to give it along with your visa approval letter and your passport to the Immigration Officers then they will stamp the Vietnam visa into passport. Also, it is possible for you to complete it in advance. It's easily find on the Internet or Dowload Here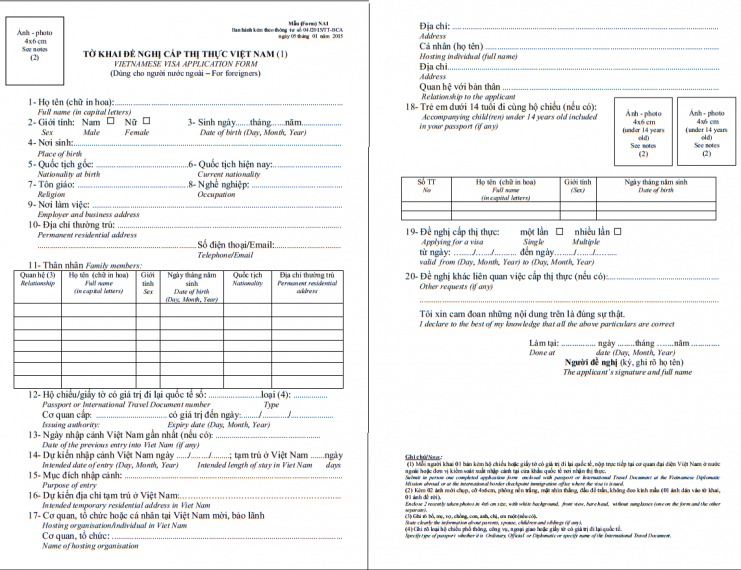 Vietnam entry and exit form
How to complete Vietnam entry and exit form?
Take a look at the instructions below:
Number 1 – full name (in capital letters): you complete with your full name in detail as it appears in your passport includeing your first name, middle name, last name.
Number 2 – Sex: tick your gender.
Number 3 – your date of birth: complete with format of dd/mm/yyyy.
Number 4 – your place of birth: As it appears in your passport.
Number 5 – nationality at birth:  Fill in your nationality of which you were born
Number 6 – Current nationality:your current nationality that is shown on your current passport.
Number 7 – Religion: Your current Religion (if any).
Number 8 – Occupation: Your current job ( if any).
Number 9 – Employer and business address: Name and location of your company or educational Institute (If any).
Number 10 – Permanent residential address – Phone/Email address: fill in with your address, contactable phone number and email address.
Number 11 – Family members: fill in your family members/relative names who are currently in your country. This will be used for contacting in case of emergency.
Number 12 – Passport or International Travel Document number (Type, Issuing authority and Expiry date): Your passport number and type of passport (ordinary passport, diplomatic passport, official passport), Issuing authority, the Expiry date of your passport. Check your passport again to complete this point.
Number 13 – Date of the previous entry into Viet Nam: If you have visited Vietnam before, please complete with the date structure (dd/mm/yyyy). Leave it blank if this is your first entry in Vietnam.
Number 14 – Intended date of entry and Intended length of stay in Viet Nam days: Your entry date to Vietnam and staying duration in Vietnam (as long as not before the arrival date and after the expiry date noted in your Vietnam visa approval letter).
Number 15 – Purpose of entry: it's required specified and same as your Viet Nam visa approval letter (tourism/business/visiting relative…).
Number 16 – Intended temporary residential address in Viet Nam: Complete with the address of your hotel or place of residence you are planning to stay within Vietnam (if any).
Number 17 – Name of hosting organization: this can be located in the title of the Vietnam visa approval letter and the rest should be left in blank or you can email us to get the company address.
Hosting individual and address: we use our company to invite you to come to Vietnam so this place you should leave blank.
Number 18 – Accompanying child(ren) under 14 years old included in your passport (if any): Your children do not have their own passport. Their information is on your passport and you need to attach their photo and information on this point.
If your children already have their own passport. You do not need to fill out this point. Your children will need to complete their own Vietnamese visa application form as well. 
Number 19 – Applying for a visa single/multiple, valid from… to: Your type of Vietnam visa, single or multiple entries visa and how long do you plan to stay in Vietnam.
Number 20 – Other requests: If you have any requests about Vietnam visa, you can put it here.
Fill in the arrival port such as Hanoi, Ho Chi Minh City, Danang, Nha Trang, Phu Quoc, Phu Bai, Phu Quoc, Can Tho…
It's not really difficult to complete the Vietnam visa application form. The information that you have used to apply for the Viet Nam visa approval letter needs to be the same as your current passport.
Also, there are some places at number 16; 17; 20, you can leave it blank if you have not booked an accommodation or if you are unsure about hosting organization…
Done at … : write the name of the Vietnam international airport that you are going to arrive with arrival time.
How many copies do you need?
Generally, you need only 1 copy to fill and show at Vietnam Airport. Fill in Vietnam entry and exit form correctly in very important as if there's any incorrect information, your form will be not accepted and you have you do it again. Therefore, read the instructions above carefully and double check your form before confirming.
Further information, do not heritage to contact with us via:
Email: info@visatovn.com
Hotline/Viber/Whatsapp/Zalo: +84 906609394
or if you need a Vietnam visa, let do it now Apply Vietnam visa online