There are many ways to get a visa to Vietnam such as apply at the Embassy, e-visa, visa on arrival…but how to get a cheap Vietnam visa? On this page, we will about the Vietnam visa fee and benefits on each way
Apply for a visa at the Vietnam Embassy/Consulate.
To apply a visa to Vietnam at the Embassy, you have to submit your original passport, travel plan (booking tickets, hotels, tours…).
You can send via post or handed in personally, causing you loss of time on this way.
Processing fee: each of the Embassy has their regulated fee, please check with them before applying. Also you need to pay for delivering services or transportation if you want to visit the Embassy.
Processing time: 3 – 5 working days, it does not work on the weekend and Vietnam Public holiday.
In conclusion: apply for a visa on this way just suitable for applicants who living nearby an Embassy/Consulate of Vietnam or wants to enter Vietnam by land.
2. Vietnam e-visa
Since February 2017, the Vietnamese Immigration Department has introduced a pilot electronic visa system for 81 eligible countries. The e-visa cost of 25USD but valid only 30 days with a single entry.
Processing time: 3 – 4 working days. Expedite services is not available.
Note: Vietnam Offices close during the Public Holiday and on the weekend.
The fee for applying the Vietnam E-visa is cheap. But it is limited so much for applicants around the world and for those who need a longer time visa or with multiple entries requirement.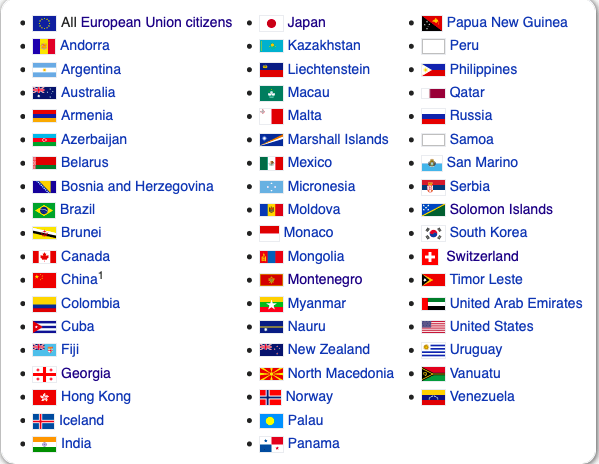 3. Vietnam visa on arrival airport.
Vietnam visa on arrival is an alternative way that allows you to get a visa stamp when you arrive at Vietnam International airports. These kinds of visas are only accepted when you arrive in Vietnam by plane.
There are many options with the Vietnam visa on arrival. You can choose and apply for the 1-month or 3-months, with a single or multiple entry visas. Not only travelers, businessmen and other people who want to visit a friend, but a relative in Vietnam still can also apply for the visa on arrival airport as you can select tourist or business visas.
Processing time:  2 – 3 working days. Urgent service is available. It can be processed on the weekend or Vietnam Public holiday.
How much does it cost for a Vietnam visa on arrival?
You need to pay 2 kinds of fees: stamp fee and process fee.
Stamp fee is regulated by the Vietnamese Government.
The processing fee is paid for our services to make a visa for you.
Here is the stamp fee and the sample service fee of
visatovn.com

From our view, the Vietnam visa on arrival is quite cheap and easy to apply. You don't need to send off your passport or visit the Embassy but still can get a cheap visa to Vietnam.
Please contact us if you have any question or do you need any advice to get a long term visa to Vietnam