Vietnam business visa which normally is categorized DN is granted to foreigners who come to Vietnam for business purposes. The business visa can be valid from 1 month up to 1 year, on both type of single and multiple entries. Also, there are some other type of business visa in Vietnam and each of them carries difference meaning: 
NN1 issues to the representative officers; projects of international organizations and international non-governmental organizations (NGO) in Vietnam.
NN2 issues to heads of representative offices, branches of foreign traders, foreign representative office of economic, cultural and other professional in Vietnam.
NN3 issues to foreign workers who work with foreign non-governmental organizations, representative offices, branches of foreign traders, traders and foreign representative office of economic, cultural and other professional in Vietnam.
DN issues to foreigners who will come to work at Vietnamese companies/organization.
LD issues to foreign workers who have work permit in Vietnam.
DT issues to foreign investors or foreign lawyers practicing in Vietnam.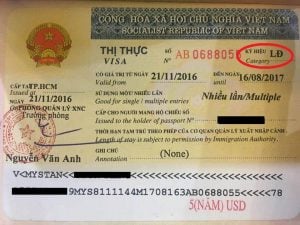 On those cases, DN visa is the most popular and easy to apply. 
How to apply for a Vietnam business visa?
I. Apply online to get the Vietnam business visa on arrival airport
Similarly, with Vietnam tourist visa, we need only your passport detail and arrival time to make it for you.
After 3 – 5 working days (standard service) or 1 – 2 working day (urgent service), you will receive the visa approval letter via email. Before taking your trip to Vietnam, you just need to print out the letter and show it upon arrival airport to get a visa stamp.
II. Apply for business visa at the Vietnam Embassy/Consulate abroad:
To apply for a business visa at the Vietnam Embassy, applicant NEED TO visit the Embassy or send off the passport and attached some required document. we highly suggest you to contact with the Embassy for more detail with instruction. 
How much does it cost for the business visa to Vietnam?
Pending on the way you choose to to get the visa, the fee would be difference.
1. Visa at the Embassy: the fee is vary
2. Visa on arrival airport: you need to pay 2 kind of fees: service fee and stamp fee.
Service fee: you pay for us to handle and apply a visa for you at the Vietnam Immigration Department then you the visa letter to your email.
Stamp fee: you pay directly in cash to Immigration Officer on arrival airport in Vietnam to get visa stamped.
Here is the sample table of Vietnam business visa on arrival fees at Visatovn.com:

What you need to prepare for the visa procedure on arrival airport?
Print out the Vietnam business visa approval letter.

Your original passport.

2 passport photos size 4×6.

The 

entry and exit form should be filled in advance to save your time at check-in area.

The stamp fee in cash
At the immigration counter on arrival airport, kindly submit all the mentioned things above to officers. After checking, they will stamped the visa into your passport and return it to you.
Important:
The visa approval letter must be printed out in advance to get on the plane. Because most of the staffs from flight operators will ask you show the visa before you want to enter the country. Normally, there are some printing shops at departure airport where you can print out the letter before checking in.
If you forgot to bring along with the passport photos, it can be solved on arrival airport. You need to pay for service fee. However, it should be well prepared in advance to save your time when you arrive.
Visa on arrival is acceptable only when you come to Vietnam by airplane. Therefore, you could not use this visa approval letter at borderland. 
Vietnam business visa application online or at The Vietnam Embassy will NOT be solved during weekend or Vietnam public holiday. As a result, you have to apply the visa on arrival type of tourist during this time as it works 24.7.
Let us know if you have any questions about Vietnam business visa via
Email: info@visatovn.com
Hotline/Zalo/Whatsaap/Viber:(+84)906.609.394