There are many foreigners who are traveling or living but let their Vietnam visa expire or could not extend it on time for some reason such as the fee to do visa extension is too high or they have lost their passport… On this page, we are going to give you some examples and tips help when if you fall into one of these situations.
If you are going to leave the country but your visa has expiredfor 1 or 2 days, you could leave Vietnam and pay a fine at the airport check-in point. The fee is around10 – 20USD per day. There is no defined fee in this case, as sometimes Immigration officers let you go without any punishment.
How about Vietnamvisa extension, don't worry about the fine fee, most of the visa agencies do not ask for extra money for the fine when you overstay in Vietnam for just a few days.
Can you leave Vietnam when your current Visa already expired for more than three days? In many cases, the Immigration officers at check-in point won't let you leave Vietnam, they will ask you go back to do the exit visa and pay for fine first, you might have to change or cancel your flight itinerary. In this case, you should immediately contact your local visa agency to do the Vietnam exit visa and pay the overstay fee.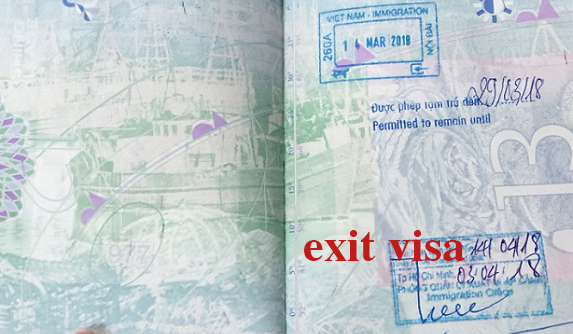 Should you contact the Vietnamese Immigration department to solve the fine by yourself when your Vietnam visa has expired?
Following the Immigration law in Vietnam, when you let your Vietnam visa expired, your name could be put on the block list and limit your entry into Vietnam next time you wish to visit. Also, it can take from 5 – 7 working days to solve the problem by yourself.
Depending on your previous entry ports, the local Immigration officer will refuse to extend your visa if you did check in from other ports which are not controlled by the local Government. For example, you came to Vietnam and check-in at Noi Bai airport (Ha Noi capital), so you can not apply to do visa extension by your self at another Immigration office.
We really recommend you come to work with a visa agency when your Vietnam visa expired.
Normally, a visa agency or company will sponsor and help you to pay the fine without any trouble on your arrival next time.
As a local agent with long time experience and good knowledge in this area, we can assist you to do an exit visa or help you extend your Vietnam visa. It depends on the number of days you overstay in Vietnam and of course, the longer you overstay in Vietnam, the more complicated the procedure is. It takes only a few working days for us to do a visa for you.
If you want to know about the fee, please send us a scan of your passport and the page in which contains your current Vietnam visa, previous entry stamp and send to our email: we will check and let you know the fee. Or kindly provide us with the information below:
– Your nationality.
– Your type visa in Vietnam: business; tourism, visiting relatives, electronic visa (E-visa)…and it was issued for how long (1 month, 3 months or more than 3 months)…
– Your last entry day and at which border: Ho Chi Minh airport, Ha Noi airport, Da Nang airport, Nha Trang airport, Phu Quoc airport or borderland…
– Let us know exactly how many days you have overstayed.
We will check and give you the best advice for your case.
If you have any questions relating to an expired Vietnamese Visa, please don't hesitate to contact us by:
Email: info@visatovn.com
Hotline/Zalo/Whatsaap/Viber:(+84)906.609.394